Printing and Copying
Printing
Black and white printing is available in the library from any of our PCs through the use of our print system. To pay for your printed pages, you must purchase a cash card from a vending machine in the Reference area using dollar bills. The cost of the empty card is $1.00. Once purchased the print card may be loaded in $1.00 increments. Each printed page will deduct 15¢ from the amount on your card. This card never expires and may be reloaded at any time. Pages are retrieved using your print card and your library card. For information or assistance, please inquire at the Reference Desk.
WiFi Printing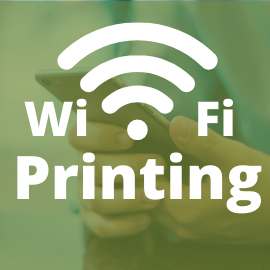 Printing is also available on laptops or mobile devices, either from inside the library or remotely through an internet connection. Via the PrintOn service, printed items may be sent from anywhere directly to our printer, where you can pick them up with your print card. Items will be saved at our print terminal for up to 48 hours for your convenience.  To begin the printing process view our WiFi Printing Instructions or click on the green WiFi Printing image. If you have any other question, ask at the Reference Desk.
Copying
Photocopying in both color and black and white is also available. The cost is $.15 for black and white and $.25 for color pages. The copy machines take dollar bills or non penny coins.