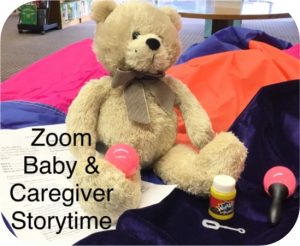 Zoom Summer Baby & Caregiver Storytime
Fridays at 10:30am, June 25th through August 14th, 2021
Join Ms. Audrey for a live zoom meeting to bond with your baby. We will introduce our babies to the joys of movement and song while building their early learning skills.
Storytime is a program for parents/caregivers and their children from birth to 18 months. Both the parent/caregiver and the child must be present during the entire program. Unaccompanied adults or children will be asked to leave the program. Register below and you will receive an email reminder on the Wednesday before. You will be registered for all of the storytimes in this session, June 25th through August 14, 2021.
Please stop by the drive through window after your registration is confirmed. A Zoom Summer Baby & Caregiver Storytime Bag will be on hold for you under your name. You will receive a list of rhymes/songs, a shaker, a scarf, and bubbles to keep and use during the zoom storytime. The bags will be available starting June 11th, 2021.
How to Register:
Click the Zoom link to register: https://us02web.zoom.us/meeting/register/tZAlcuyhqTsoEtxaKjIpb36YsNB0Z3HDmsz7