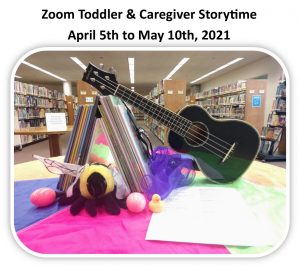 Mondays, April 5th to May 10th, 2021, 10:45am to 11:15am. (Zoom does not allow a 10:45 start time, so the meeting will open at 10:30am, but will not start until 10:45am)
Link to register: https://us02web.zoom.us/meeting/register/tZckcuCgqj8rE9N5kT8DdqWiDEqJIkc6uo8q
Join Ms. Audrey, her ukulele, and the bumblebee puppet for a live zoom meeting to bond with your toddler! Participants will enjoy stories, action songs using scarves or shakers, and spend time with other toddlers in the neighborhood. Who's ready for Heckety Peckety?!
Toddler Storytime is a program designed for parents/caregivers and their children from 18 months to 3 years. Both the parent/caregiver and the child must be present during the entire program. Unaccompanied adults or children will be asked to leave the program. Register below and you will receive an email reminder with a link by 9:30am on the day of the event. You will be registered for all of the storytimes in this session, April 5th to May 10th, 2021.
You do not have to have a library card to register, but it helps us identify you and confirm your registration quickly. If you do not have a library card, you can get one here: https://allentown.sparkpa.org/eg/opac/register
*Please stop by the drive through window after your registration is confirmed. A Zoom Toddler & Caregiver Storytime Bag will be on hold for you under your name. It contains a list of rhymes/songs, a scarf, 2 shakers, a Mister Sun craft, a mini rubber duckie, and 5 Little Eggs (complete with chicks!), to keep and use during the zoom storytime. The bags will be available starting March 23rd.