The home distilling & infusing handbook : make your own whiskey & bourbon blends, infused spirits, cordials & liqueurs by Matt Teacher
With the nationwide explosion in popularity of home-brewed and craft brewery made beers, the proliferation of local wineries and sangria fests, a person might presume there's no room left for infused spirits or whiskey and bourbon blends. For those of you in the latter category—think again.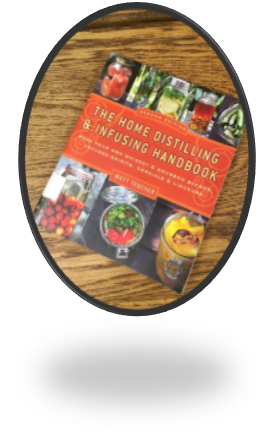 This little book from the non-fiction shelves of the Allentown Public Library covers a host of possibilities from gin to vodka, and cordials to rum.
Pages resemble your family's favorite old recipe book complete with Instagram-worthy photos. Amusing quips like these from comedians, politicians and celebrities and keep it simple but interesting.
"There can't be good living where there is not good drinking."

~ Benjamin Franklin
After a brief intro and a few comments about the law and safety for DIYers, readers can get the real lowdown on what works and what doesn't when it comes to adding various fruits, vegetables or herbs to alcohol. Uncomplicated directions with no more than five steps in most cases provide easy to follow ways to create new choices for digest-ifs, or compliments to your dinner.  Reserve your copy.