I'm not a vegetarian but sometimes I run out of creative ways to cook vegetables. I have learned that vegetarians can provide me with lots of new recipe ideas to avoid getting stuck in a cooking rut.
While pictures help me to get an idea of what a finished product should look like, I often read a recipe through the list of ingredients to decide if (a) I have enough of them already on hand, (b) if I and my family stand a fairly good chance of eating whatever I choose to cook, and (c) if I have the time to prep and make the dish based on the author's estimates.
I found Taste of Home's Vegetarian Made Easy cookbook in our stacks and decided to page through to see what sounded yummy.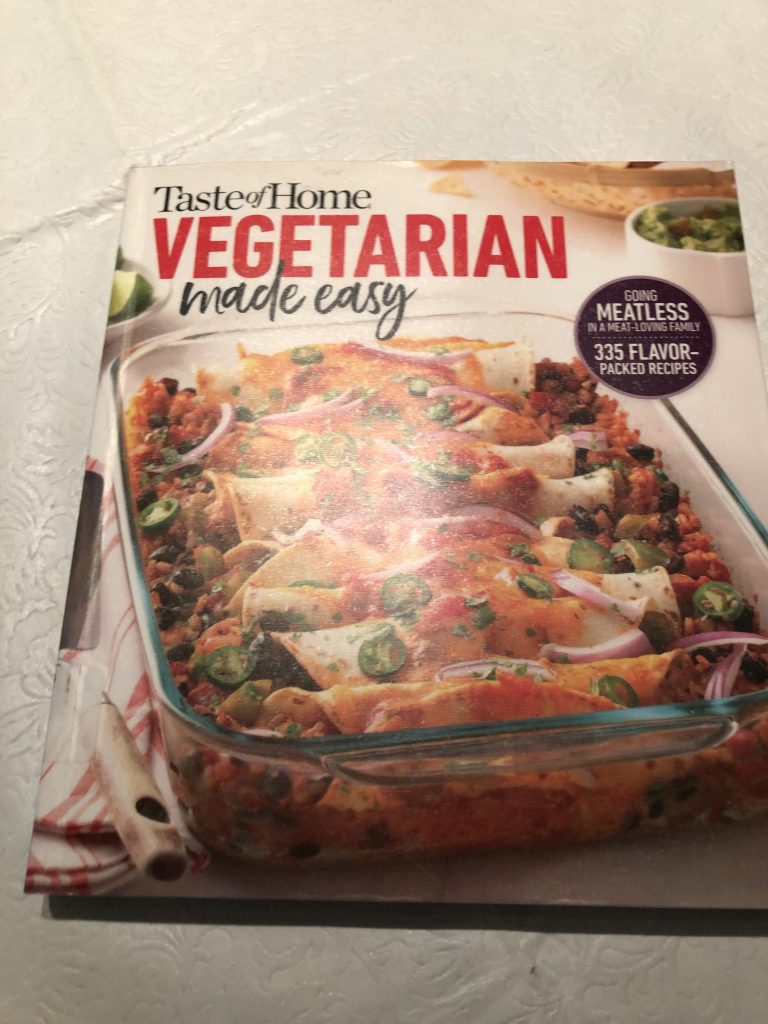 I settled on Creamy Cauliflower Pakora Soup, a recipe submitted by Melody Johnson of Pulaski, Wisconsin because in reading through the instructions, it appeared to meet my criteria.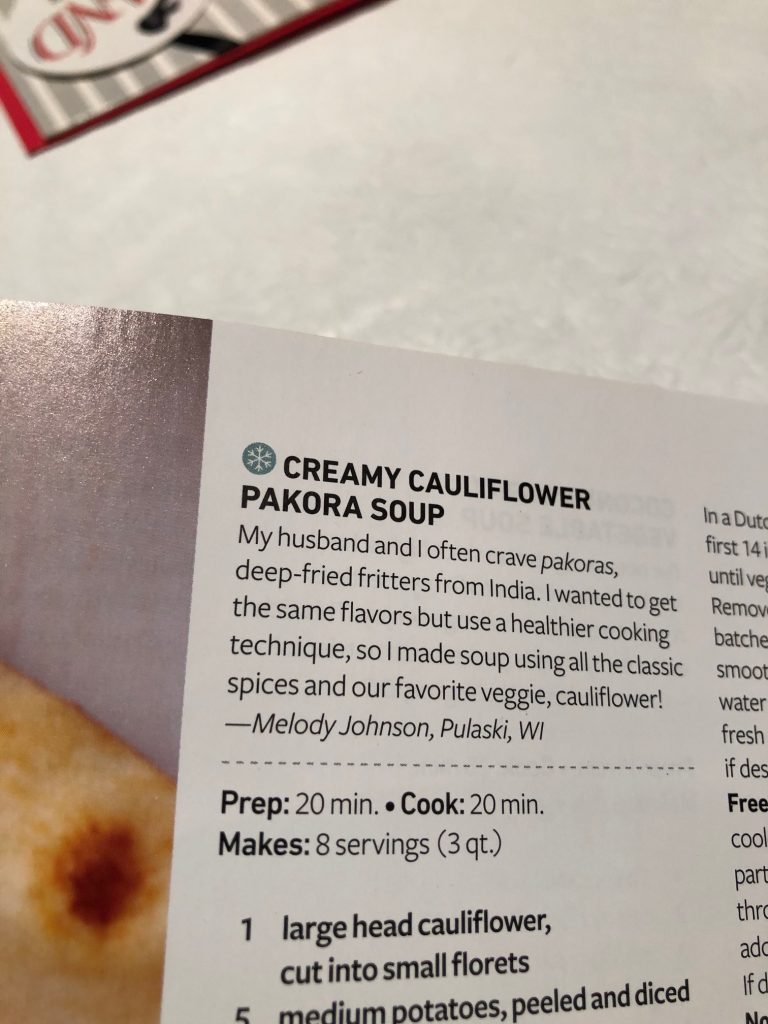 First of all, the recipe calls for 20 minutes prep time and 20 minutes to cook. She lied. Sorry Melody. Also, I didn't have a concept of how much 3 quarts of soup would be, but that's on me.
In all this recipe took about three hours to make from start to finish. Gathering the ingredients required a quick trip to the grocery store for a box of vegetable stock, but I didn't count that time because I thought I had some on hand but when I went for it, I discovered that instead I had almond milk. That might have been good, but I didn't want to chance it.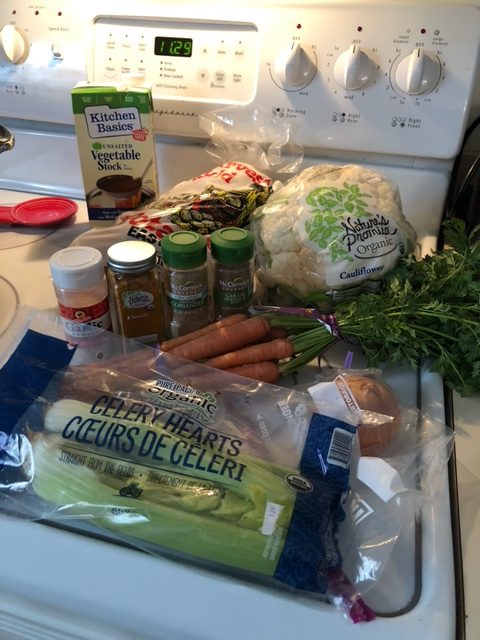 Peeling, cutting and dicing the veggies took me every bit of an hour.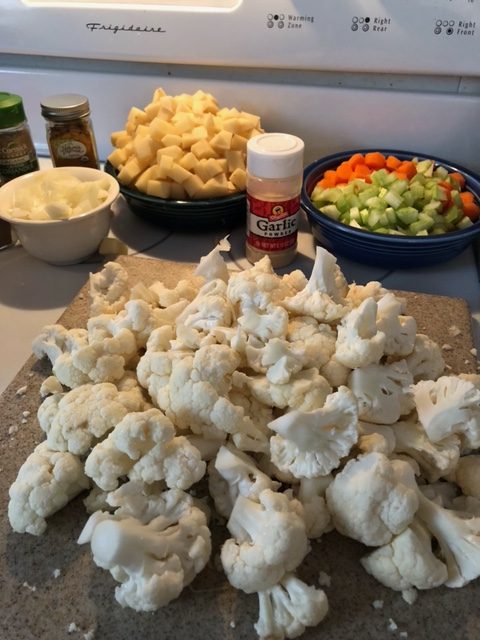 Bringing all of the ingredients to a boil and simmering took 20 minutes. To be honest, it didn't look like there was enough liquid but as it turns out, it was just the right amount.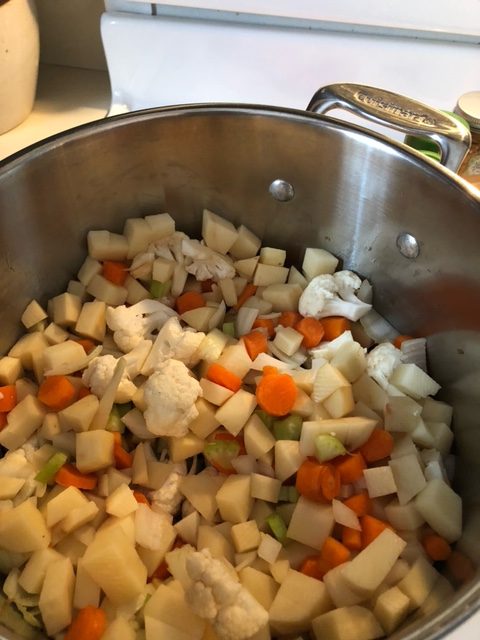 The veggies were soft to the fork when the timer rang. The tricky part is that you have to let it cool enough to spoon it into a blender. You're supposed to serve it hot, but because this was my first time making the dish, I had decided in advance to serve it re-heated later. "Just get the dish made and see how it turns out," was my thought.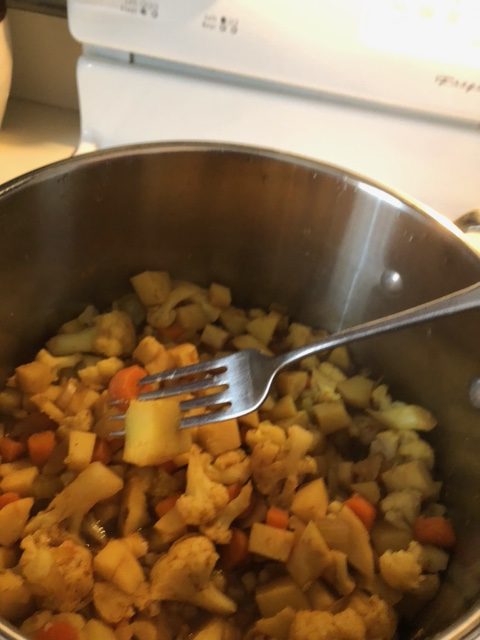 Cooling enough to avoid steam burns took at least 30 minutes. The transfer process was messy. Once it was in the blender, it only took a few minutes to blend to cream soup consistency, but it was a tad thicker than I expected so it had to be helped out of the blender with a rubber spatula.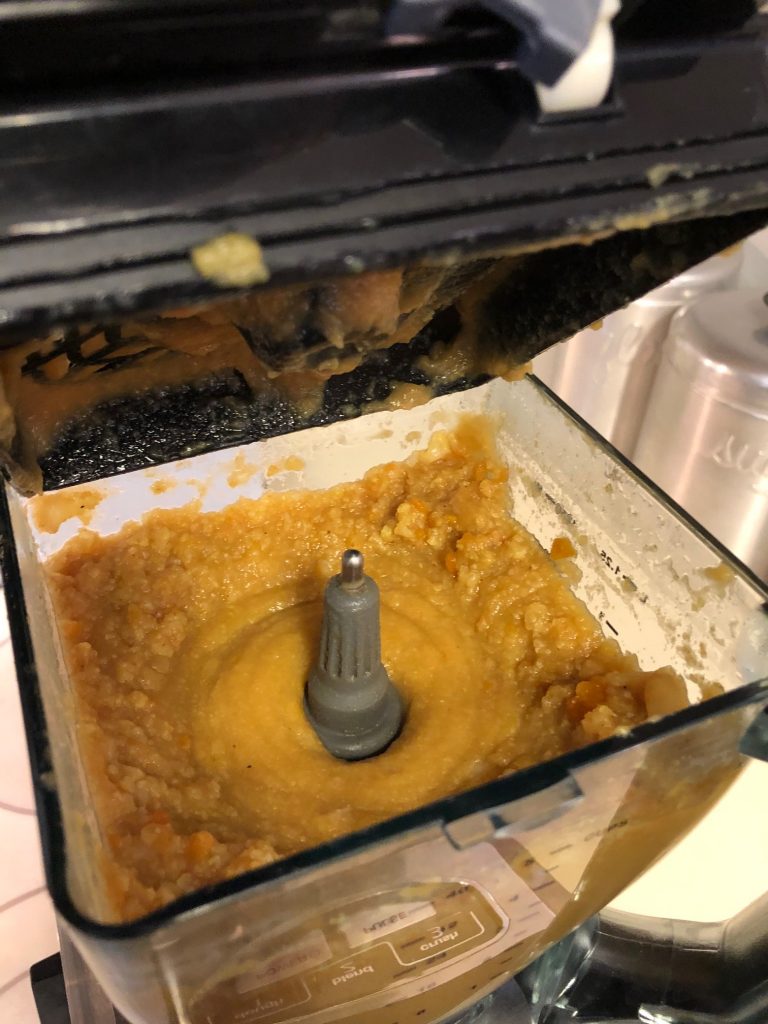 It got three out of five stars from my husband, but he offered the caveat that his Pennsylvania Dutch-ness may have influenced his rating downward as it's not especially appealing to his taste palette. I would have given it four out of five for taste and five out of five for the lingering sweet aroma that permeated my home. Prep and mess-wise I'd give it a two.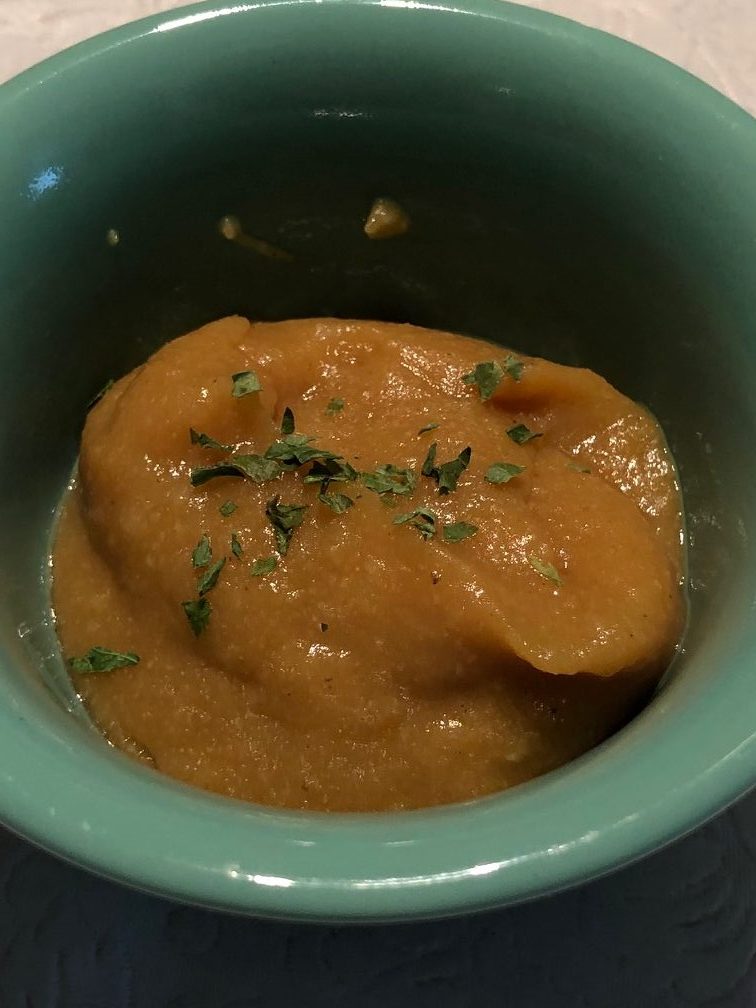 Pro Tip: (Which I didn't think about until after I'd put it into large containers) Pour soup into ice cube trays and freeze. Once frozen, put soup cubes into a freezer bag and take the cubes you need for a quick lunch heat up.
Nailed the Bingo recipe!
~Kimberly – Reference Librarian