Building 21 High School students exhibit art at the library!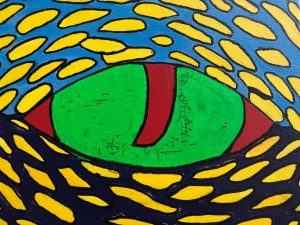 Students from Allentown's Building 21 High School have provided our community with an original art exhibit that includes a variety of paintings, drawings and mixed media pieces here in the Allentown Public Library.
For this display, students in grades 10 through 12 were given freedom of self-expression without limits on theme, medium or size. This freedom has provided them with the opportunity to lend their work and voice to the community, and to show what they experience through realism or abstraction.
Bringing an art exhibit to the library provides these student artists the opportunity to learn what is required to take their art on the road. It engages them in how and where their art will be displayed, and what is necessary to make it accessible to the public. You can follow them on Instagram at @artaptb21.
Be sure to visit the library to enjoy the full scope of the work created by these artists who live and go to school right here in Allentown. Now through January 15th!